In this season, China CMEF 2019 autumn exhibition is held in Qingdao, Shandong Province, the bright pearl of Bohai Bay. It coincides with the 70th national day of the motherland, and countless bright national flags are set up one by one in the museum, which also indicates that the guests are looking forward to the high-quality domestic products. The CMEF exhibition solemnly invited leaders of Qingdao District, leaders of reed Sinopharm exhibition and representatives of manufacturers. The 82nd China International Medical Device Expo, held at the International Exhibition Center of Qingdao World Expo City, attracted thousands of manufacturers from more than 20 countries around the world to participate in the Expo. With their expectation for the latest cutting-edge technology of medical device consumables, more than 100000 professional visitors came to Qingdao to share the latest achievements of medical technology development.The focus of this conference is on "intelligence" and "future", that is, to encourage the development of new medical technologies and continuous innovation of medical means in the current era of rapid technological changes.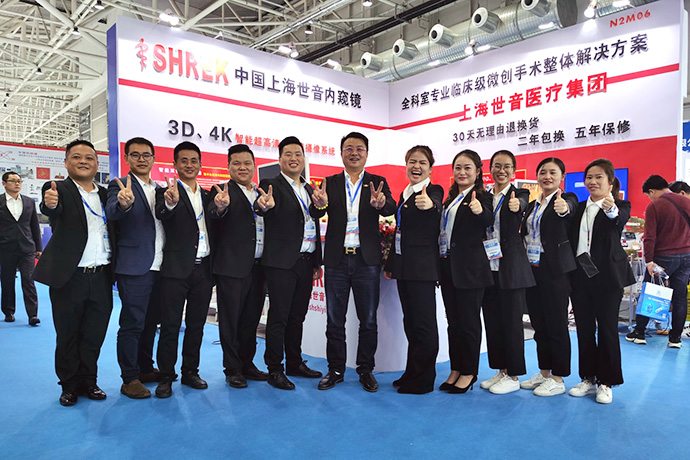 In the grand exhibition area of Qingdao World Expo City, participating exhibitors provided a top-level feast of the latest medical technology for participants from all over the world.
Shanghai Shiyin also brought the whole department solution and high-end brand-new series of products of endoscope to display.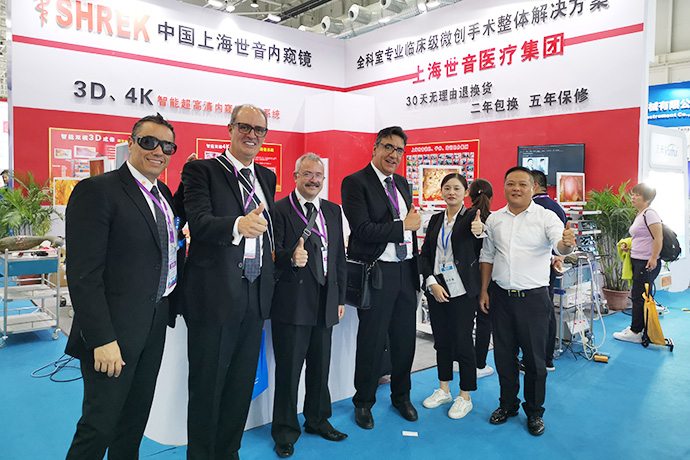 At present, the state emphasizes the importance of "innovation" and "core technology", encourages the innovation and development of domestic medical devices, strives to further enhance the share of domestic medical devices, and constantly promotes the application of new technologies in the medical field. Shanghai Shiyin medical has a number of technical patents in the field of endoscopic imaging, and has its own R & D team and production center, which has contributed its wisdom and strength to the national localization strategy of endoscopic medical devices.
Shanghai Shiyin's intelligent smoke-free ultra high definition endoscope has attracted many audiences for its fine display quality which is no less than that of international brands, as well as the high-temperature operation of meat products inside pumpkin to display the smoking system.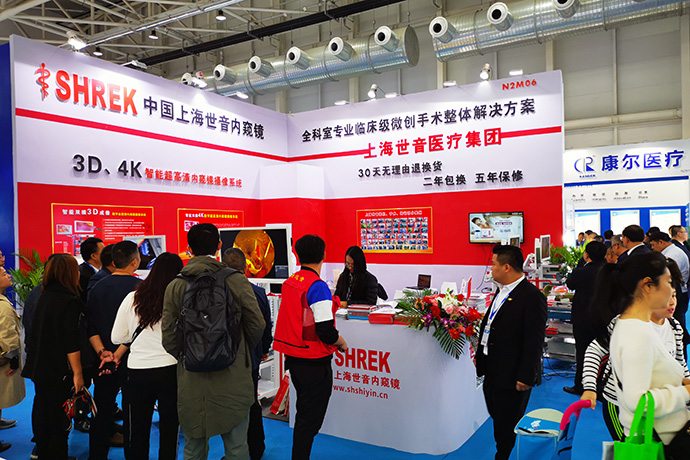 During the exhibition, customers at home and abroad pay close attention to the products of Shiyin, which is a high affirmation of the products of Shiyin, and also the driving force of all the staff of Shiyin medical.
Shiyin medical will shoulder the trust of doctors and patients, keep improving to develop high-quality good products, take the lead in research and development, continuously launch innovative products, and contribute their efforts and strength to promote the development of medical industry and the well-being of patients!